Available March 1, 2022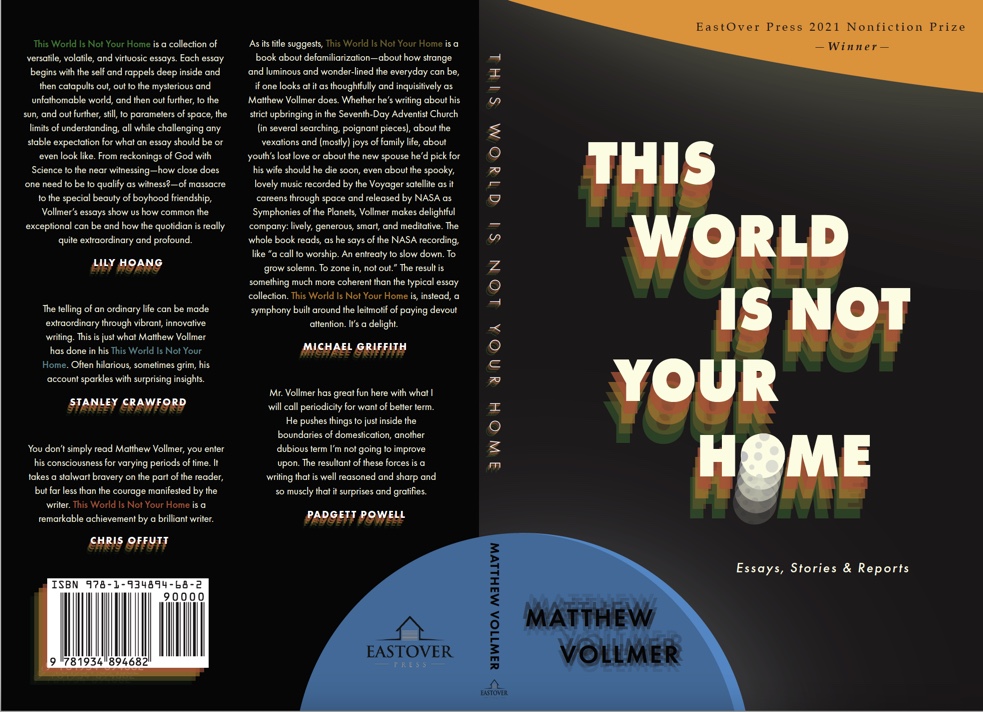 Available at: Bookshop.org ▪ IndieBound ▪ Barnes & Noble ▪Amazon
cover design by Evan Lavender-Smith and Jackson Smith
Ranging from third person accounts to essays in the form of notes, instructions, and extended meditations, This World Is Not Your Home unfurls like an idiosyncratic playlist of the possibilities available to the writer of creative nonfiction.
The title essay, written in second person, tells the story of Vollmer's growing up in rural North Carolina, and catalogs the psychological pressures exerted by a little-known religion that, while all-consuming for the author, seemed invisible to the rest of the world. Other essays include:
Instructions for how to write a love story that centers two young star-crossed lovers at a Seventh-day Adventist boarding school.
A trip to a mountain home built to resemble a castle reveals a secret underground bunker that houses tens of thousands of dollars' worth of Nazi militaria.
An essay written in the form of notes takes stock of forbidden music.
A husband and wife take a walk after dark, encounter a spectacular cosmic phenomenon, and return home to discover a distraught child.
An investigation into NASA's Symphonies of the Planets, an album of electromagnetic impulses emitted by various planets, which was transformed into sound waves, occasions an extended meditation on space, music, and the meaning of sound.
An eyewitness account of the aftermath of the shooting at Virginia Tech considers the surreal and sorrowful reactions to an unfathomable violence.
In another essay, a preoccupation with his inevitable death causes Vollmer to imagine who his wife might remarry, and the cataloguing of his potential replacement's superior characteristics and preoccupations creates a kind of portrait in reverse.
An essay that unfolds in a single paragraph recounts the house of Vollmer's best friend, which has since been razed, and becomes a requiem for the loss of a childhood filled with Nerf footballs, a farting dog, Intelevision track pads, and an obsession with finding hidden messages in rock music.
A third person retelling of a trip with his family to visit his parents in their mountain home over Thanksgiving becomes an occasion to grieve a recent miscarriage, while dramatizing peculiar family dynamics and bearing witness to the beginning stages of a mother's early onset dementia.
Written using a variety of forms and points of view, these immersive, voice-driven essays are a testament to the dexterity of the form.
This World Is Not Your Home was selected as a winner of the 2021 EastOver Prize for Nonfiction and has received much praise.
Lily Hoang, author of five books of prose including Changing and A Bestiary, said, "This World is Not Your Home is a collection of versatile, volatile, and virtuosic essays. Each essay begins with the self and rappels deep inside and then catapults out, out to the mysterious and unfathomable world, and then out further, to the sun, and out further, still, to parameters of space, the limits of understanding, all while challenging any stable expectation for what an essay should be or even look like. From reckonings of God with Science to the near witnessing—how close does one need to be to qualify as witness?—of massacre to the special beauty of boyhood friendship, Vollmer's essays show us how common the exceptional can be and how the quotidian is really quite extraordinary and profound."
Chris Offutt, author of The Killing Hills, said, "You don't simply read Matthew Vollmer, you enter his consciousness for varying periods of time. It takes a stalwart bravery on the part of the reader, but far less than the courage manifested by the writer. This World is Not Your Home is a remarkable achievement by a brilliant writer."
Padgett Powell, author of novels including Edisto, A Woman Named Drown, Edisto Revisited, Mrs. Hollingsworth's Men, You & Me, The Interrogative Mood, and Hologram, said, "Vollmer has great fun here with what I will call periodicity for want of better term. He pushes things to just inside the boundaries of domestication, another dubious term I'm not going to improve upon. The resultant of these forces is a writing that is well reasoned and sharp and so muscly that it surprises and gratifies."
Stanley Crawford, author of The River in Winter and Mayordomo, said, "The telling of an ordinary life can be made extraordinary through vibrant, innovative writing. This is just what Matthew Vollmer has done in his This World Is Not Your Home. Often hilarious, sometimes grim, his account sparkles with surprising insights."