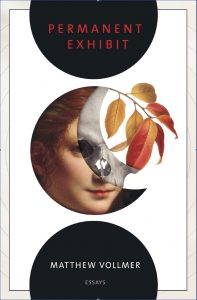 Matthew Vollmer opens a browser window into his own mind with these collage-style essays. Exercising a rapacious intellectual curiosity, he seamlessly integrates flying snakes, mass shootings, emojis, pop stars, stargazing, ghosts, circuses, and a hundred other things. Full of keen observations and unexpected insights, Permanent Exhibit reclaims the art of letting one's mind wander and explore in the age of the status update.
From Kirkus Reviews:
"Endearingly tender essays reveal the quirky flights of a curious mind. Fatherhood, anxiety, the delights of playing video games, and transient moments of epiphany emerge as themes in these brief essays by Vollmer (English/Virginia Tech; Gateway to Paradise: Stories, 2015, etc.). His musings on nature recall the sensibility of poet Mary Oliver; his reflections on family, David Sedaris. Unexpected juxtapositions yield pleasurable surprises. In 'Sinkhole,' for example, he recounts beginning his day checking his phone for news and noticing a video on how to prepare a one-pot spaghetti meal, which leads him to ruminate about red meat and heart attacks, crashing while biking, a fond recollection of a certain yellow lab that lived for years after being diagnosed with a deadly illness, playing the video game 'No Man's Sky,' in which he happily explores a virtual planet, and his overwhelming feeling of 'gratefulness for being alive…causing me to acknowledge that I've done nothing to earn a life as good as the one I have.' The author's happiness, though, is tinged with anxiety, as if 'there must be something lying in wait, just beyond the reaches of what I can perceive.' In 'Stormbox,' he confesses that faced with thunder, lightning, or existential turbulence, 'the need for human contact' impels him to wrap his arm around his son's chest, reassured by the 'rhythmic and steady beat' of the boy's heart. Keenly attentive to the landscape through which he bikes and walks his dog, Vollmer notes a spider's web glistening like 'a net upon which droplets of dew had been strewn like jewels'; a dry creek bed, 'its boulders chalky with dust'; and the sun rising above 'a field of wheatlike grass and pale blue mountains [that] resemble frozen blue waves.' Theosophy, YouTube videos, the ambitions of Elon Musk, the strange emergence of menacing clowns in a South Carolina town, politics, his students, and various family members all pop up in fresh and surprising ruminations. Captivating journeys with a playful, winsome guide."
Click here for an index.