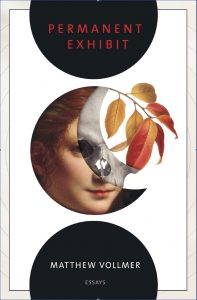 Matthew Vollmer opens a browser window into his own mind with these collage-style essays. Exercising a rapacious intellectual curiosity, he seamlessly integrates flying snakes, mass shootings, emojis, pop stars, stargazing, ghosts, circuses, and a hundred other things. Full of keen observations and unexpected insights, Permanent Exhibit reclaims the art of letting one's mind wander and explore in the age of the status update.
From Kirkus Reviews:
"Endearingly tender essays reveal the quirky flights of a curious mind. Fatherhood, anxiety, the delights of playing video games, and transient moments of epiphany emerge as themes in these brief essays by Vollmer (English/Virginia Tech; Gateway to Paradise: Stories, 2015, etc.). His musings on nature recall the sensibility of poet Mary Oliver; his reflections on family, David Sedaris. Unexpected juxtapositions yield pleasurable surprises. In 'Sinkhole,' for example, he recounts beginning his day checking his phone for news and noticing a video on how to prepare a one-pot spaghetti meal, which leads him to ruminate about red meat and heart attacks, crashing while biking, a fond recollection of a certain yellow lab that lived for years after being diagnosed with a deadly illness, playing the video game 'No Man's Sky,' in which he happily explores a virtual planet, and his overwhelming feeling of 'gratefulness for being alive…causing me to acknowledge that I've done nothing to earn a life as good as the one I have.' The author's happiness, though, is tinged with anxiety, as if 'there must be something lying in wait, just beyond the reaches of what I can perceive.' In 'Stormbox,' he confesses that faced with thunder, lightning, or existential turbulence, 'the need for human contact' impels him to wrap his arm around his son's chest, reassured by the 'rhythmic and steady beat' of the boy's heart. Keenly attentive to the landscape through which he bikes and walks his dog, Vollmer notes a spider's web glistening like 'a net upon which droplets of dew had been strewn like jewels'; a dry creek bed, 'its boulders chalky with dust'; and the sun rising above 'a field of wheatlike grass and pale blue mountains [that] resemble frozen blue waves.' Theosophy, YouTube videos, the ambitions of Elon Musk, the strange emergence of menacing clowns in a South Carolina town, politics, his students, and various family members all pop up in fresh and surprising ruminations. Captivating journeys with a playful, winsome guide."
"Through many chapters of semi stream-of-conscious, semi episode-drive essays, Vollmer puts himself on display, orienting us in his mind as his body carries us from episode to episode, driving the reader along the halls of his life, showing us the exhibits that will be permanent so long as he exists. Occasionally Vollmer jumps on his own bike and leads us to the farmers market or his teaching gig at Virginia Tech, but the journey always incorporates much more than the simple saddling up. Vollmer's collection can't be easily defined, and in a way, I think he probably likes it that way. The open-ended form and chapters allow Vollmer to touch on exactly what concerns him at any given time, even jumping from a current scene to a completely divergent thought—something you would dissuade a composition student from ever doing. But it works."
–Cameron Maynard, in Carve Magazine
"The fragments that make up Permanent Exhibit by Matthew Vollmer read like memoir, like essays, like poetry. They are unconventional, short, and punchy, imitating the lexicon of contemporary internet discourse while sharpening the rhetorical edges to enhance the language's poetic qualities. Ranging from a few sentences to a few pages, each piece is laid out in sprawling, uninterrupted single paragraphs. Within the short paragraph of the opening essay, 'Status Update,' Vollmer approaches themes that will appear repeatedly throughout the collection: technology, family, literature, and death. The essay, like the collection as a whole, attempts to keep a variety of dissonant impulses in conversation: the natural and the manufactured, the political and the personal, irony and sincerity, the grand and the mundane, comedy and tragedy…"
–Stephen Mortland, at Entropy
"This postlapsarian period of 'secondary orality' will be defined by performance, as well as remixing and recontextualizing or appropriating other sources. This is what Vollmer manages, a series of monologues in his own voice that also take in the modes of mass communication of our twitter-speed history. The monologues are performative and akin to the classroom he once taught in that observed a class next door through a one-way mirror: reflection on one side, spectation on the other. We can see Vollmer through the one-way wall of these essay/monologues, can observe a seemingly private mental space ('This is so creepy' one student says); we can also see ourselves in these pieces. "
–Michael Sheehan, at DIAGRAM
"In this way, Permanent Exhibit would be an excellent text to survive a global calamity that would somehow render most of the records of our time unreadable. The people of the future who find this book will be able to read this text as a snapshot of current American moment. This is what I thought when I read the essay that brings up the crazy clown sightings of 2016. The future reader—maybe not even in the distant future, and maybe we don't need to wipe out our entire cultural memory, let's say someone who is simply removed from us by a length of time as short of twenty years—may read this section and ask, "Did that really happen?" with the same incredulity that we asked the same question as those things took place. That the book is written in real-time in 2016 is significant. Every sentence is double-cursed by that year: once for the growing sense of unease at that time—repeated high-profile shootings of African Americans, the presence of Trump campaign posters pre-election, Hurricane Matthew, the clowns—and again for the tragedy that we know will come later that year, and that continues to unravel."
-Anthony Michael Morena, in The Rupture
Click here for an index.